Educate and Obligate: A Physician Outreach Case Study
Kelsey Rutis and Lisa Howell
From websites to online reviews, written blogs to video-heavy formats, print newsletters to special offer direct mailers, audiology practice owners and providers have a plethora of digital and traditional marketing tactics to consider when forming a strategic marketing plan.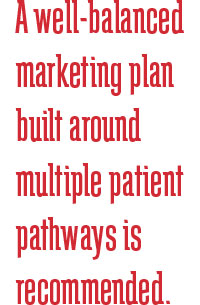 To ensure the most cost-effective strategic marketing results for the highest possible return on investment, however, a well-balanced marketing plan built around multiple patient pathways is recommended. The strongest marketing plans and approaches ensure an appropriate allocation of financial and time resources, while utilizing psychographic and demographic research to guide and support marketing efforts. Of the pillars that make up a well-balanced marketing plan – brand impression, patient commitment, online presence, advocacy, direct response, and awareness – advocacy is a key pillar which helps motivate physicians and patients to be proactive about hearing health and to champion an audiology partner for their patients and loved ones. Physician outreach specifically is a comprehensive, and very manageable tactic that seeks to create long-term, mutually beneficial relations for the patient, audiology practice, and referring healthcare professional.
For the audiology practice, an increased number of new patients is just one of the benefits. For referring professionals, the relationship can be important to their reimbursement structure. For the patient, it is an opportunity to have a holistic, preventative care network of knowledgeable healthcare providers.
More than ever, practice marketing needs to be a multi-layered and dimensional approach to match and attract the attention of patients and intended audiences. Through repetition and consistency, marketing piques interest and creates a sense of need and familiarity for patients as well as referring professionals. By taking an educational approach and using published articles or writing unique pieces focused on educating physicians and other health care professionals, physician outreach is a low-cost financial marketing expense that involves an investment of time over monetary expense.
Through outreach, awareness, and relationship-building, an audiologist can become the trusted advisor, educating PCPs on comorbidities between hearing health and a growing list of associated diseases. Helping physicians better care for their patients allows the patients to lead healthier, fuller lives.
The objective of this case study is to educate the audience about on the benefits, opportunities, and challenges of physician outreach while providing items for consideration in launching and implementing this marketing tactic as part of a well-balanced marketing plan.
Scope of Challenge
For physicians, education on hearing impairment is frequently focused on basic anatomy and physiology of the hearing and balance organs due to pared curriculums. Few medical programs offer a rotation through an audiology clinic, thus reducing the physician's ability to gain additional knowledge that would help provide effective risk-versus-benefit patient counseling, or in many cases, knowledge of comorbidities. Through educational marketing, audiologists may facilitate increased patient access to audiology services, more effective treatment, and improved quality of life.
The main benefits of a consistent physician outreach strategy for an audiology practice are many, including:
Seventy-three percent of the U.S. population talks to their primary care physician (PCP) about hearing loss before consulting anyone else, yet only 13-to-15 percent of PCPs test patients (Tysoe, 2013). When you develop a meaningful partnership with physicians, you're also planting the seed to grow meaningful relationships with their patients.
With recent changes in over-the-counter distribution of hearing aids and online sales of personal sound amplifiers, physicians need to be aware of what the limitations of use are on those technologies to ensure that their patients are capable of accurately deciphering the differences, limitations of use, and benefits of varying technologies.
Patient care is on the physician's top-priority list. When they are able to help serve their patients with the best care, they are in turn supporting their total body health.
Physician outreach gives you another outlet to brand yourself as a community health care expert.
Generally, it's more expensive to bring in a new patient with traditional marketing than it is with a physician outreach program. For example, it costs $450 to $550 for each new appointment through traditional marketing, whereas a physician outreach program is more of an investment in time.
Methods and Results
What to Know Before Beginning
Physician outreach is a critical marketing strategy for any audiology clinic looking to grow their revenue by increasing patient flow into the clinic. While the cost for materials is relatively low (handouts, brochures, etc.), the cost of time for consistent outreach can be a barrier to implementation for clinics. Before starting an outreach program, it is recommended that the practice identify an outreach point-person or 'captain' within the practice who can devote 1 – 3 hours per week to outreach. This can be a challenge for small practices with limited staff, or practices with full patient schedules. Utilizing block scheduling strategies can remedy some of these challenges.
When thinking about physician outreach, there are several factors to consider before beginning, including the following:
What is the value to 1) patients and 2) referring professionals?
What is the value of your practice vs other audiologists in the area?

Why does this matter to the referring professional?
Why does this matter to the potential patient?
The answer to these questions should be addressed as you are working on your style guide and brand story (you may have also worked on these elements with a human resources manager around the topic of attracting and retaining staff).
Preparing for Outreach
Physicians can be identified in several ways. The best first step is to evaluate physicians who have already referred to the audiology practice. The clinic should identify those with whom to build stronger connections and add them to the list. After reviewing current referrers, the practice can expand their search through online research using search engines and local healthcare directories to identify other physician referral targets.

The radius in which a practice does outreach varies by market. In a dense, urban market, the practice might only travel in a 1 – 2-mile radius. For more suburban or rural markets, it may be reasonable for patients to travel 10 – 50 miles to receive healthcare from their various providers. As a practice begins their outreach efforts, they need to identify where the majority of their patients live and travel from to assist in directing the scope of a physician outreach radius.
In addition to identifying the target list of physicians, the outreach captain should block schedule their time each week for in-person visits and follow-up calls. Visiting a list of 10 target physicians, requires scheduling time to visit 2 – 3 physician practices per week. Depending on the distance from the audiology clinic, this may take anywhere from 1 – 3 hours per week.
In addition to the outreach visits, the audiology clinic should have a well-defined referral follow-up strategy in the clinic for when a physician does send referrals. It is recommended that this include sending a written report and audiogram to the physician within 48 hours. Additional touchpoints are recommended like follow-up calls to the physician's office to detail the outcomes, and sending a handwritten thank you card for the referral, in addition to the written report.
Outreach and Communication Frequency
Plan monthly communications, touchpoints, and visits to the target list of physicians for 6 months. After the 6-month outreach period, evaluate the engagement with and referrals from physicians who have been visited. For those with good engagement in person, as well as those sending referrals, it is reasonable to keep them on the outreach list and continue visits for the next 6-month period. For those with low engagement in person and non-referrers, the clinic should consider removing them from the outreach list and adding new prospects to the list. As physician outreach is an investment of time, it is important to be realistic and keep the plan manageable. Between 5 and 10 practices in total is a great place to start for most practices most effectively manage their time for outreach.
Gather Materials
Effective outreach includes delivering materials with information on the services the audiology clinic provides as well as contact information for sending referrals. In addition, it is recommended that the practice determine a monthly theme for their outreach and deliver educational materials, like whitepapers and research studies on hearing loss and related comorbidities, to further educate the physician office. For physicians, nurse practitioners, and physician assistants, audiologists have the opportunity to be a resource on comorbidities, educating these healthcare professionals on the link between hearing loss and diseases such as dementia, diabetes, and cardiovascular health. With this information, referring professionals can enhance the overall health of their patient base, and they have the added benefit of potentially increasing their reimbursements from claims billed to Medicare funded plans.
In addition to comorbidities, audiology clinics may deliver educational materials related to hearing technology and other treatments. Bringing materials to help providers learn about issues affecting hearing health, like what to know about overthe- counter devices, can help them make appropriate referrals to an audiologist.
Discussion of Tactics
The audiology clinic should also keep record of their visits and referrals resulting from the outreach. This can be done simply in a spreadsheet.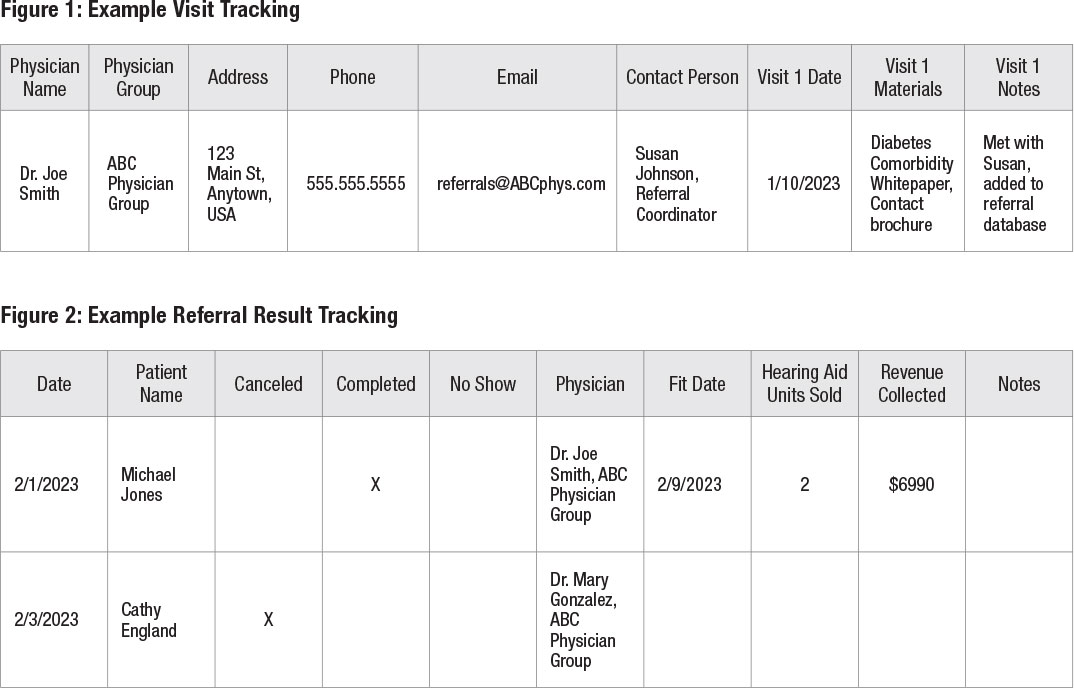 Many factors can impact the results beyond the initial outreach visit, such as the inbound call conversion by the front office staff, patient no-shows (appointment attrition), patient test results, and whether the patient adopts the recommended treatment protocol. Success from physician outreach should primarily be measured in the number of visits completed and the number of referrals sent by each physician, since these are factors that can be controlled by the person completing the outreach. Conversion beyond the initial referral sent should be handled through other measures, like coaching and training, operational processes, etc.
When evaluating outreach return on investment (ROI), it is important to take outreach program costs into account and subtract them from total revenue to assess the return on the investment. For most marketing efforts, a 300% or higher is recommended.
Two Important Considerations
Many factors impact the nature of physician referrals for hearing care today. Below is a discussion two of the most common factors.
Anti-Kickback Statutes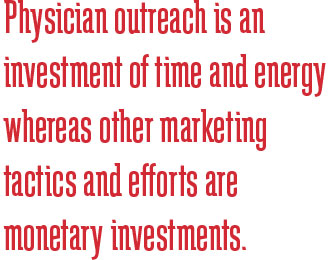 When implementing a physician outreach program, it is critical to be aware of the Anti-Kickback Statute (AKS). This statute is a federal regulation [42 U.S.C. §1320a-7b(b)] that "prohibits offering, paying, soliciting, or receiving anything of value to induce or reward referrals to generate Federal health care program business."
This law limits the dollars that can be spent on physician gifts on an annual basis. This is seen as "remuneration" for inducing or rewarding physicians for referring to your practices. This includes any items of value beyond a $300 per calendar year per physician practice. These items are limited to offering physician practices only unsolicited nonmonetary gifts (no cash or cash equivalents). It is HIGHLY recommended that practices track their dollars spent to each physician AND seek out local legal counsel regarding federal laws, and the laws of the state in which the practice is located.
Audiology clinics may consider sending thank-you gifts to their referring physicians or bringing gifts during their drop-off visits. It is critical that the amounts outlined in the AKS are considered and tracked as to not violate the statute.
Over-the-Counter Hearing Aids and Physician Outreach
In some cases, without an effective outreach and education program from the local audiology clinic, physicians don't have a full understanding of effective hearing treatment options. With recent FDA approval of over the counter (OTC) distribution of hearing aids and online sales of personal sound amplifiers, physicians need to be aware of what the limitations of use are on those technologies to ensure that their patients are capable of accurately deciphering the differences, limitations of use, and benefits of varying technologies. OTC hearing aids are only recommended for those with perceived mild to moderate hearing loss. One cannot effectively know their hearing loss without a diagnostic evaluation, so it is important that patients seek out a diagnostic evaluation before trying to self-treat their perceived hearing loss. Furthermore, using hearing technology can present challenges for patients with dexterity issues or an inability to manage the devices through a Bluetooth device, so a knowledgeable audiologist can be paramount to a successful hearing loss treatment plan. By reaching out to and educating the local physicians, a local audiologist can help more patients receive referrals for diagnostics prior to attempting to treat their hearing loss.
Meeting Physicians Where They Are
A mix of traditional mail, in-person visits, phone calls, digital outreach, and email are part of physician outreach and many professional referral marketing strategies. The main challenge for audiology clinics in regular physician outreach is dedicating the time needed to make substantive visits to local physician offices. The pandemic also added levels of complexity. While most industries and professional services have either returned to pre-pandemic ways of doing business or created new models for conducting business, many health care practices and facilities still have measures in place that make in-person drop-in visits challenging. There are many methods of developing relationships with referring primary care providers and referral care coordinators that do not involve in-person visits, though in-person strategies remain a critical component of outreach. As physician outreach is a marketing strategy in its own right, it should involve multiple tactics that build upon each other.
The Dollars and Cents
In the marketing of a practice, a mix of strategies and tactics is important to the immediate health and long-term success of a practice. Whereas tactics such as digital marketing play a key role in gaining immediate patient flow and filling schedules short-term, strategies such as physician outreach are about creating longer-term, and frequently some of the best-qualified, patient flow.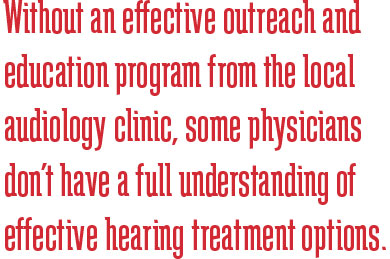 Generally, it is more expensive to bring in a new patient through traditional and some digital marketing than it is through a referral and relationship-based outreach program. Physician outreach is an investment of time and energy whereas other marketing tactics and efforts are monetary investments. For example, it costs upwards of $525 for each new patient appointment through traditional marketing (newspaper inserts or ads, direct mail postcards, etc.).
A physician outreach return on investment (ROI) calculator tracked results collected from over 200 practices over the past 18 years. The data demonstrated the financial benefit of implementing a physician marketing strategy for an audiology practice. A practice with a plan based on 35 monthly connections to a targeted database of physicians could expect 6 referrals in a monthly period (17% referral rate). If half of those referred patients are then found to have treatable hearing loss, and the practice has proven history of 1.3 of those treatable patients adopting hearing aids (effectiveness ratio per patient is 2.0, based on two ears being fitted), the practice could dispense four hearing aids per month just from having built a consistent, long-term physician outreach program. Assuming these referrals result in private pay hearing aid sales in a bundled pricing model at an average selling price of $2,500 per unit, the practice would yield just over $10,000 in monthly revenue. Of course, these projections can vary considerably, depending on factors such as average per unit selling price and the business model of the practice.
Becoming a Trusted Advisor
Through outreach, awareness and building relationships, an audiologist can become a trusted advisor, educating primary care physicians on many challenges related to patient hearing health, including but not limited to technologies and comorbidities to help these physicians better care for their patients.
Physician outreach is a longer-term marketing strategy focused on building relationships with referring healthcare professions. Whereas other types of marketing are more frequently focused on quick turn gains or flow through short messaging or branding on ads, through pay per click, or online reviews, communications with and marketing to referring professionals such as physicians and their staff is about build trust through consistency, repetition, and education. By providing data-driven information relating hearing health, audiologists can become a trusted advisor to other medical professionals.
Benefits to the Referring Physician
The benefits of regaining hearing are not just for the patient and their loved ones. The referring physician will ultimately benefit as well through potential improved communication with their patient and better information retention due to improved hearing in their patient interactions.
Hearing loss is a proven barrier to good health and quality of life. Reed et al (2019) recently showed untreated haring loss increased the cost of care in older adults, compared to adults without hearing loss. The study suggests that hearing loss is associated with increased healthcare care expenditures and resource utilization. Notably, hearing loss was associated with an average 46.5% increase in health costs and a 44% increase in risk of 3-day hospital readmission over a 10-year period. Awareness of the burden that hearing loss places on individuals, insurers, and hospitals contributes to the growing evidence of hearing loss as a public health concern.
When primary care physicians and referring health care professionals can help serve their patients with holistic and preventative care, they are, in turn, supporting the patient's total body health. In the study cited above (Reed et al 2019) of the patients that proceeded with hearing aid prescriptions to address their hearing loss, 36% saw mental health improvements, 48% experienced quality of life improvements, 56% reported improvements in relationships at home, and 90-100% had their income loss decreased. ■
References
Reed, N. S., Altan, A., Deal, J. A., Yeh, C., Kravetz, A. D., Wallhagen, M., & Lin, F. R. (2019). Trends in Health Care Costs and Utilization Associated With Untreated Hearing Loss Over 10 Years. JAMA Otolaryngology - Head & Neck Surgery, 145(1), 27–34.
Tysoe, R. (2013) Interventional Audiology: Partnering with Physicians to Deliver Integrative and Preventive Hearing Care. Hearing Review. 36 (11)23-27.
---
Kelsey Rutis is SBU Manager at Audigy
Lisa Howell is Marketing Manager at Audigy