ADA 2022 Award Recipients Honored at AuDacity
The Academy of Doctors of Audiology (ADA), the leading national audiology association dedicated to autonomous practice, has announced the recipients of the prestigious ADA Leo Doerfler Award for Clinical Excellence in the Community, the Craig W. Johnson Audiology Advocate Award, the Audiology Awareness Award, and the ADA Hearing Industry Leadership Award.
Dr. Whitney Swander Receives the Leo Doerfler Award for Clinical Excellence in the Community
ADA has named Whitney Swander, Au.D., owner of Hearing Health Care Centers in Colorado, as the 2022 Leo Doerfler Award recipient. The Doefler Award, ADA's highest honor, recognizes an audiologist for demonstrating outstanding clinical services in the community throughout their career. Eligibility for the Doerfler Award is open to ADA members who are private practitioners.
"Dr. Swander exemplifies lifelong learning and continually strives to find new ways to serve her patients and the community," said ADA President, Kristin Davis, Au.D. "In addition to her tremendous services to patients throughout Colorado, her volunteer service extends globally, and includes multiple mission trips to deliver better hearing and kindness to those in other countries."
Dr. Swander is a compassionate leader who is dedicated to her patients, her employees, and the community she serves. She has expanded her practice from four locations to seven and nearly doubled the number of employees (currently 20) over the past decade.
Dr. Timothy Steele Receives the Craig W. Johnson Audiology Advocate Award
ADA has named Tim Steele, Ph.D., President & CEO of Associated Audiologists, as the 2022 Craig W. Johnson Award recipient. The Johnson Audiology Advocate Award recognizes an audiologist who has made significant contributions to the profession of audiology through federal and/or state advocacy.
In 2012, Dr. Steele was influential in securing the first Congressional sponsor (Representative Lynn Jenkins) to introduce federal legislation, which is today known as the Medicare Audiologist Access and Services Act, to streamline Medicare beneficiary access to audiologists and to improve coverage policies for audiology services.
"Dr. Steele has made tremendous personal, professional, and financial sacrifices to support advocacy initiatives that support evidence-based clinical practices and professional autonomy for audiologists," said ADA President, Dr. Kristin Davis. "We are grateful for both his foresight and his persistence— which is a model for all of us to follow!"
Dr. Kathy Landau Goodman Receives the ADA Audiology Awareness Award
ADA has named Kathy Landau Goodman, Au.D. as the 2022 Audiology Awareness Award recipient. As a Co-founder and President of the Audiology Awareness Campaign (AAC), Dr. Landau Goodman has led monumental efforts to raise awareness about audiology as a profession and the importance of optimizing hearing health during her three decades of service to the organization.
"Dr. Landau Goodman built the Audiology Awareness Campaign into a leading national public relations initiative," said ADA President, Dr. Kristin Davis. "Her passion for the audiology profession is only matched by her creativity and communication savvy, and the audiology profession and the patients we serve have benefitted greatly from her work.
ADA, a longstanding supporter of the AAC, assumed oversight of the organization on October 1, 2022. ADA leaders look forward to following in Dr. Landau Goodman's footsteps and continuing the exemplary work to advance AAC's mission.
Dr. David Akbari Receives the ADA Hearing Industry Leadership Award
ADA has named David Akbari, Au.D., Senior Medical Science, clinical and Regulatory Affairs Liaison at Intricon Corporation, as the recipient of the prestigious ADA Hearing Industry Leadership Award. The ADA Hearing Industry Leadership Award recognizes an individual or organization for outstanding achievements that elevate or advance the hearing industry.
"Dr. Akbari is a visionary leader who has made significant contributions to the hearing industry over the past several years," said ADA President, Kristin Davis, Au.D. "During his volunteer service as a member of the ADA Over-the-Counter (OTC) Hearing Aid Working Group, Dr. Akbari provided invaluable technical and scientific expertise to help formulate ADA's recommendations to the U.S. Food and Drug Administration in response to its Proposed Rule Establishing Over the Counter Hearing Aids, many of which were adopted by the agency."
Dr. Akbari's service to the hearing industry is not limited to OTC hearing aids. He currently serves as Chair of the ANSI/ASA/ SE/WG48 Working Group, where he leads a vibrant group of scientists at the core of innovation and leadership in developing standard measures for testing hearing aids.
Sobun and Orologio Bring Home the Gold at the ADA Student Business Plan Competition
The ADA Student Business Plan Competition took center stage as four competitors battled it out. Pallavi Sobun, Au.D. and Camden Orologio, Au.D., representing the Long Island Au.D. Consortium took home top honors and the $5,000 Grand Prize for their proposal to bring audiology services to the Republic of Mauritius. This dynamic duo wowed judges with their innovative proposal and flawless presentation delivery.
Second Place, and a $3,000 prize went to Autumn Barron, representing the University of Memphis with her business plan proposal for Reveal Mobile Hearing Solutions. Third Place and $2,000 was awarded to Jasmin Rodriguez, representing California State University Northridge for the business plan proposal for Endearing Hearing and the $1,000, Fourth Place honorable mention was awarded to Rachel Price and Kristen Moore, representing the University of Illinois Urbana-Champaign and their proposal for the FAB Foundation. Business plans were judged based on the following criteria: creativity, feasibility, completeness, cohesiveness, and professionalism.
The ADA Student Business Plan Competition could not succeed without the tireless commitment of the judges, who evaluate the business plan proposals and provide advice to students throughout the program. 2022 competition judges include Bill Connerton, National Vice President of Sales at CQ Partners, Dr. Sherri Little, owner and lead audiologist at Hearing Associates, a private practice with two locations in South Carolina, and Dr. Peter Marincovich, owner of Audiology Associates, a private practice in Santa Rosa, California.
ADA would like to thank CQ Partners and CounselEAR for their generous support of the 2022 ADA Student Business Plan Competition!
AuDacity 2022 – Practically Perfect Peer-to-Peer Education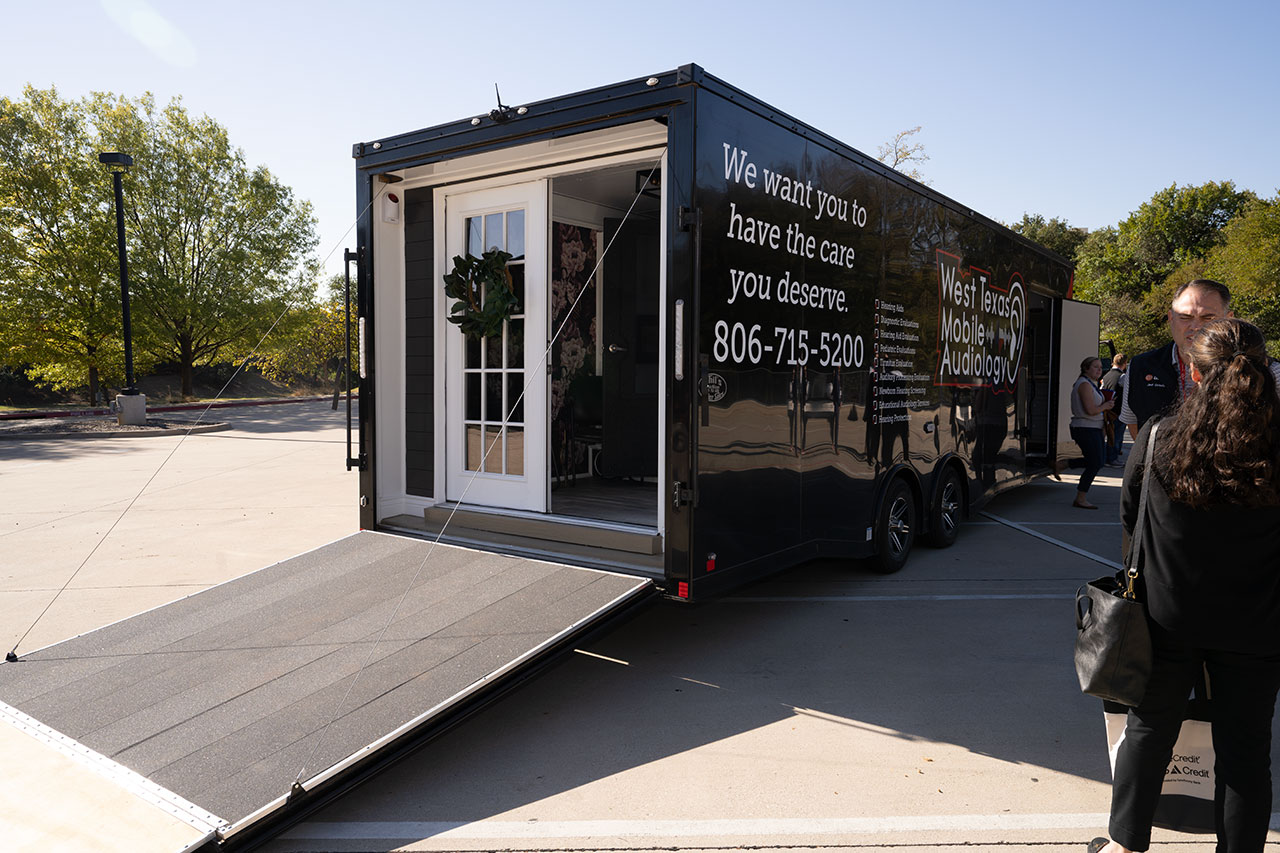 AuDacity 2022 was widely praised for bringing together audiologists and practice owners from around the nation to share resources, how-tos, and fixes with each other in a format designed to delivery practical and unstructured learning opportunities. A preconference Mobile Audiology Workshop, held in collaboration with Hearing Health & Technology Matters (HHTM) allowed participants to tour a mobile audiology clinic and offered hands-on demonstrations with portable audiology equipment.
Anchored by Keynote Presenter, Kacey Compton, M.Ed., LPCC-S, the regular AuDacity program featured concepts from her book, "Fix This Next for Healthcare Providers," which was distributed to all attendees. Plenary and concurrent sessions took the "healthcare practice hierarchy of needs" and applied the concepts to audiology practices. More than 50 exhibiting companies were on hand—with handy resources, products, and services that offered audiologists and practice owners innovative solutions that supported concepts discussed during the educational sessions.
The AuDacity program finale included two clinical workshops for audiologists interested in deepening their knowledge about tinnitus and auditory processing disorders, as well as an advocacy workshop, focused on implementation of the Food and Drug Administration Final Rule on Implementation of Over-the-Counter Hearing Aids.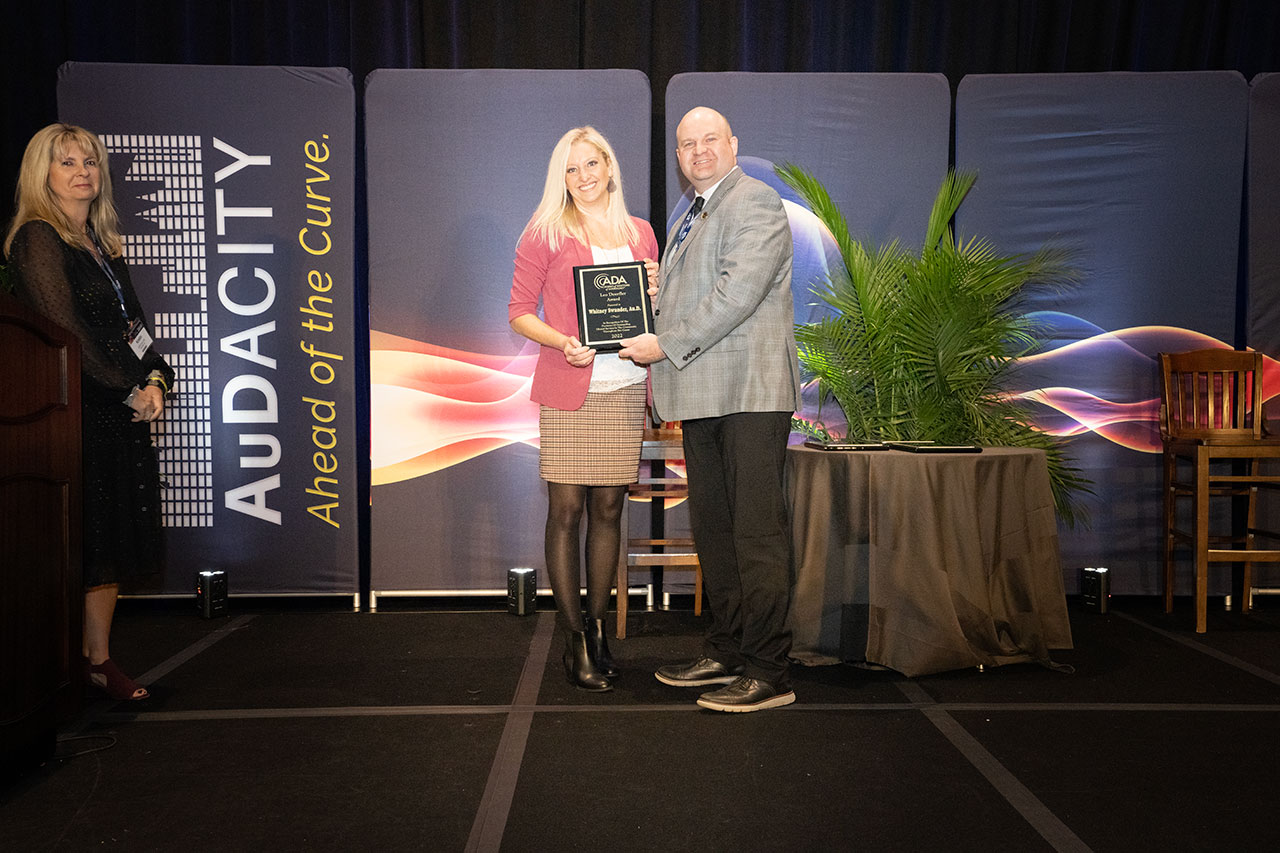 ADA Treasurer, Jason Leyendecker, Au.D. presents Whitney Swander, Au.D. with the ADA Leo Doefler Award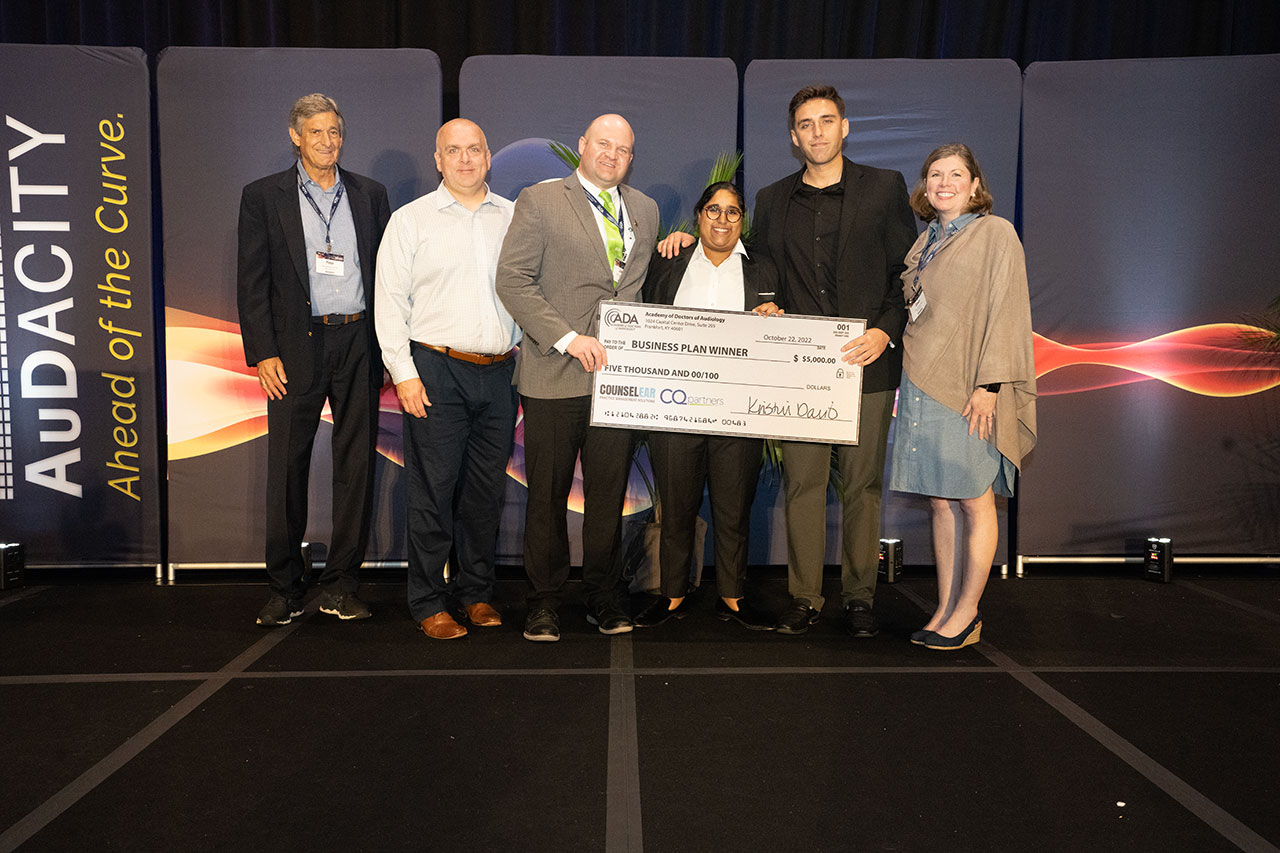 L-R ADA 2022 Student Business Plan Competition Judge Peter Marincovich, Ph.D, ADA 2022 Student Business Plan Competition Judge Bill Connerton, ADA Treasurer Jason Leyendecker, Au.D., Business Plan Competition Winners Pallavi Sobun, Au.D., Camden Orologio, Au.D., ADA President-elect, Dawn Heiman, Au.D.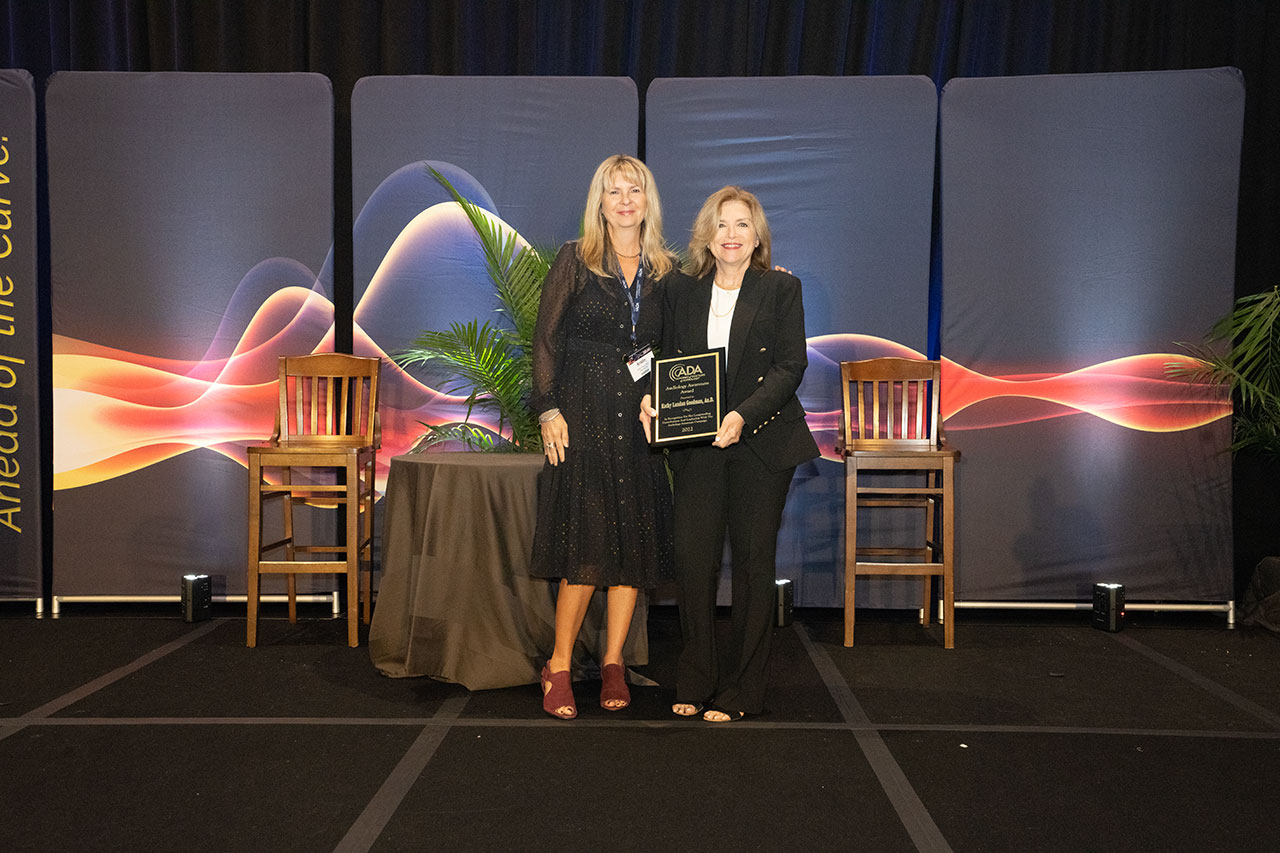 ADA President Kristin Davis, Au.D. presents Kathy Landau Goodman, Au.D. with the ADA Audiology Awareness Award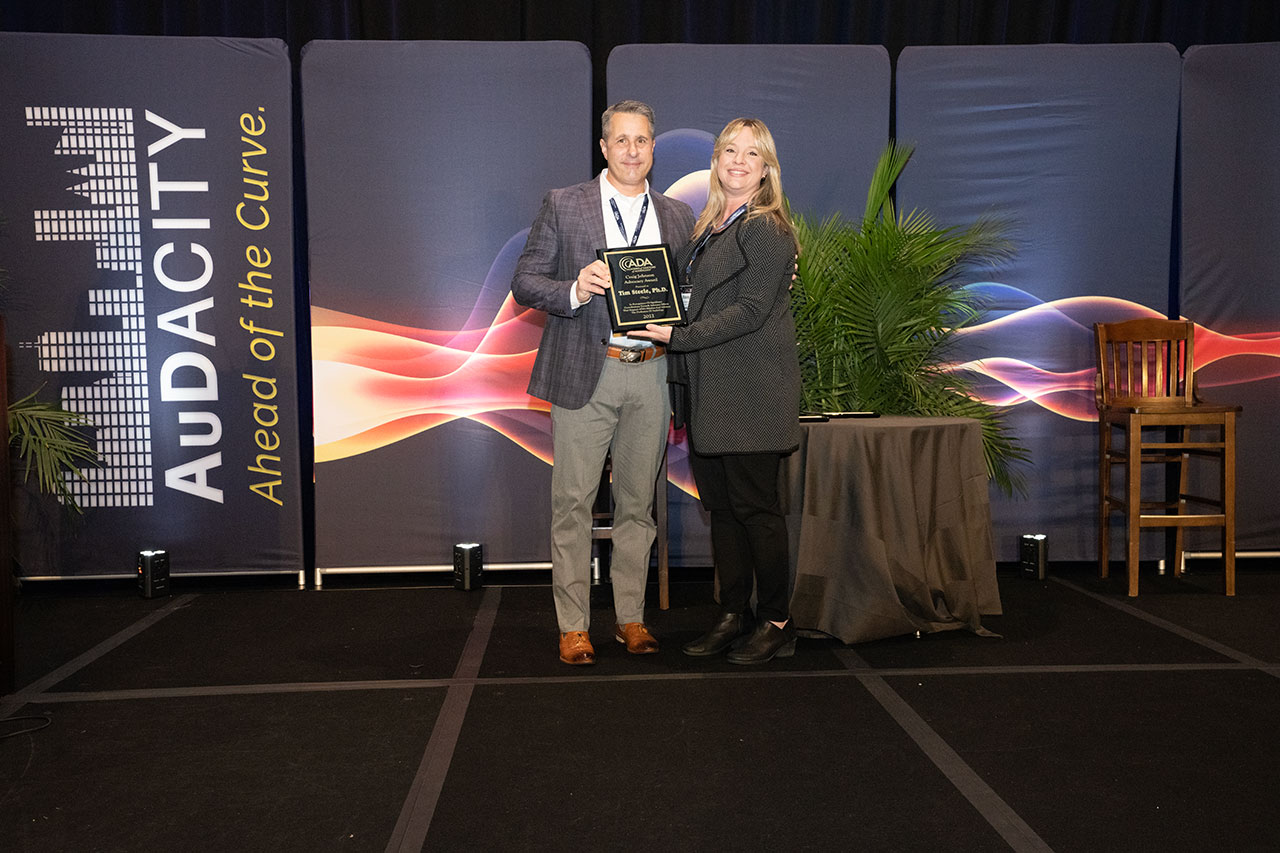 ADA Advocacy Committee Member Stacy Baldwin, Au.D. presents Tim Steele Ph.D. with the Johnson Audiology Advocate Award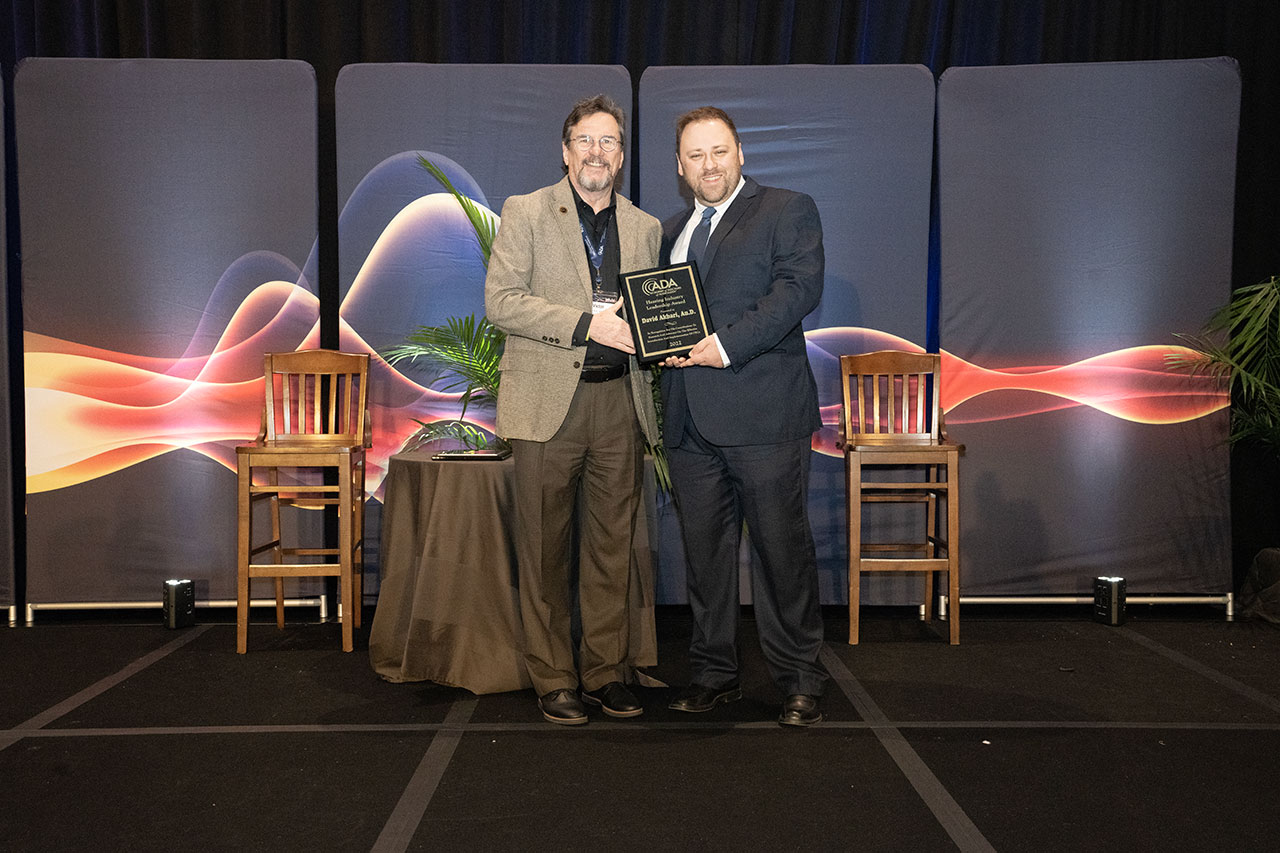 ADA Immediate Past President, Victor Bray, Ph.D. presents David Akbari, Au.D. with the ADA Hearing Industry Leadership Award
Feedback on AuDacity 2022 from One Practice and Two Professionals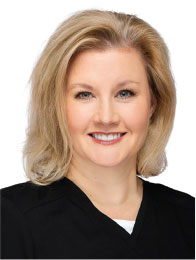 I wanted to thank you for the privilege of participating in the 2022 AuDacity Conference Planning Committee. I have to say I was blown away by the genuine enthusiasm to promote independent Audiology practices. It certainly bolstered my desire to stay active in the advocacy of our profession at the state and national levels. We all know there is still much work to be done to have Audiology acknowledged, accepted, and respected in the medical field.
I hope to have the opportunity to continue to work closely with the ADA for future events.
Dr. Abby Ryan, my colleague, was afforded the opportunity to speak in the concurrent sessions. Like I, she was so impressed with the level of the interest in Audiology practice management which we have not seen this well promoted at state or other national conferences. It was refreshing to have such a large group of practice owners presenting which allowed for great side discussions of how we can all benefit from one another's experiences in business. The venue was easily accessible for travel planning, from all over the country, and certainly offered a fabulous variety of options to enjoy when not in meetings.
I have proudly submitted my membership for 2023 and look forward to another great conference in Bonita Springs!
Dana Walchek, Au.D. Owner/Audiologist, Hearing Solutions, Birmingham, AL
---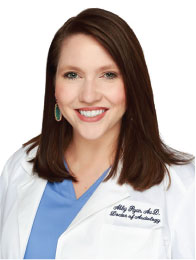 As a first time ADA/AuDacity attendee, I first want to thank everyone for bringing their expertise and experience to the table and engaging in such fruitful, constructive, and open exchanges throughout the four days of this conference. This was by far the most informative conference that I have attended. I definitely gained a lot of business insight and tools that I can use right away within our audiology private practice.
Also, special thanks to the Education Committee, including my mentor, Dr. Dana Walchek, for their leadership and support. It was an honor to be included in the Amplification Concurrent sessions alongside Drs. Alicia Spoor, Jill Davis, and Ram Nileshwar. I greatly enjoyed sharing our professional experience related to expanding amplification services through the cochlear provider network and hope it assists others in their amplification and service offerings. In addition, I feel the topic of cochlear implants is of extreme importance given the ever-growing need for cochlear audiologists. With the recent change in cochlear implant candidacy criteria for Medicare/Medicaid being increased from 40% to 60% in the best-aided scenario, effective immediately, now is the time to act. Now is the time to consider providing such services because according to the world health organization, by 2050 seven hundred million people will have disabling hearing loss. By providing cochlear services wherever you are in your hearing health journey you will broaden your service portfolio, partner with others in your medical community, better maintain existing patients as well as attract new patients, expand alternate revenue sources, and captivate your patients with new audiology talent.
Again, many thanks for the invitation to speak at the 2022 ADA/AuDaCITY conference in Grapevine, Texas. I am extremely proud and honored to be one of the newest members of an organization dedicated to the advancement of practitioner excellence, high ethical standards, professional autonomy, and sound business practices in the provision of quality audiologic care. I look forward to participating in and seeing you all next year in the sunshine state, Florida, for the ADA 2023 conference!
Abby Ryan, Au.D. Audiologist, Hearing Solutions, Birmingham, AL