Innovations in Hearing Care Delivery Channels – AUDIOLOGY AND OPTOMETRY PARTNERSHIPS
Peter Clack, Danny Clarke, OD, and Jed Grisel, MD
If one thing is certain, audiology is undergoing a massive transformation. It is becoming increasingly clear that audiology, in the years to come, will look different than it does today. Advances in hearing technology, increased awareness surrounding hearing health and legislative progress could make the coming decade a golden age for audiology. But challenges exist as well. The complexities of managed care and direct-to-consumer strategies are among potential challenges for the independent audiologist – not to mention the ever-increasing cost to get new patients in the door. The success of audiology moving forward will depend, at least in part, on identifying innovative delivery channels to support independence. The emergence of mobile audiology and tele-audiology are just a few examples of potential innovative solutions.
Delivery Channels
Traditional hearing care delivery channels leverage access to patients and trusted referral patterns. Existing delivery channels can provide illustrative examples. Ear, Nose, and Throat (ENT) clinics take advantage of a captive audience and trust in the physician's recommendation. Costco leverages a loyal customer base and sheer volume. No doubt, the audiologists who successfully navigate the coming market transformation will be those who are strategically aligned with trusted referral sources and baked-in patient flow.
Optometry Overview
Optometry is a huge specialty. With over 35,000 members, optometrists perform over 80 million eye exams per year in the US1 and generate over $20 Billion in annual revenue. Patients trust their optometrist and value vision as a critical function of daily living. A recent study demonstrated that vision loss is among the health concerns that people most fear.2 Optometry has been remarkably successful in establishing the societal norm to get an annual eye exam. Among US adults, aged 50-80 years, 66% of survey respondents plan to get their vision checked in the coming year, compared to only 27% for hearing.3 Public awareness for vision health is also among the highest of any specialty. When asked what constitutes "normal" vision, patients could answer correctly 93% of the time, compared to only 9% for hearing.3 Optometry represents a unique setting in which to deliver hearing care.
Optometry and Audiology
Offering audiology services within optometry practices is gaining traction as an innovative and successful way to leverage patient volume in a trusted clinical setting. In the United Kingdom, the marriage of audiology and optometry is rapidly gaining steam. Within the past decade, the number of audiology clinics interwoven into optometry clinics has risen from relative obscurity to over 1,400 clinics.4 With over 7,200 optometry/optical locations across the United Kingdom5, audiology clinics within optometry practices now equate to 19.4% coverage, suggesting that patients desire to access these dual healthcare disciplines from one location.
The pitfalls that have plagued this clinical integration in the past are giving way to rational, mature partnerships between independent audiologists and their optometry colleagues. Likewise, the value proposition for both professions is coming increasingly into focus. Generally speaking, the integration of audiology and optometry offers value to both professions in three general areas—clinical value, commercial value, and professional value. (See Table 1)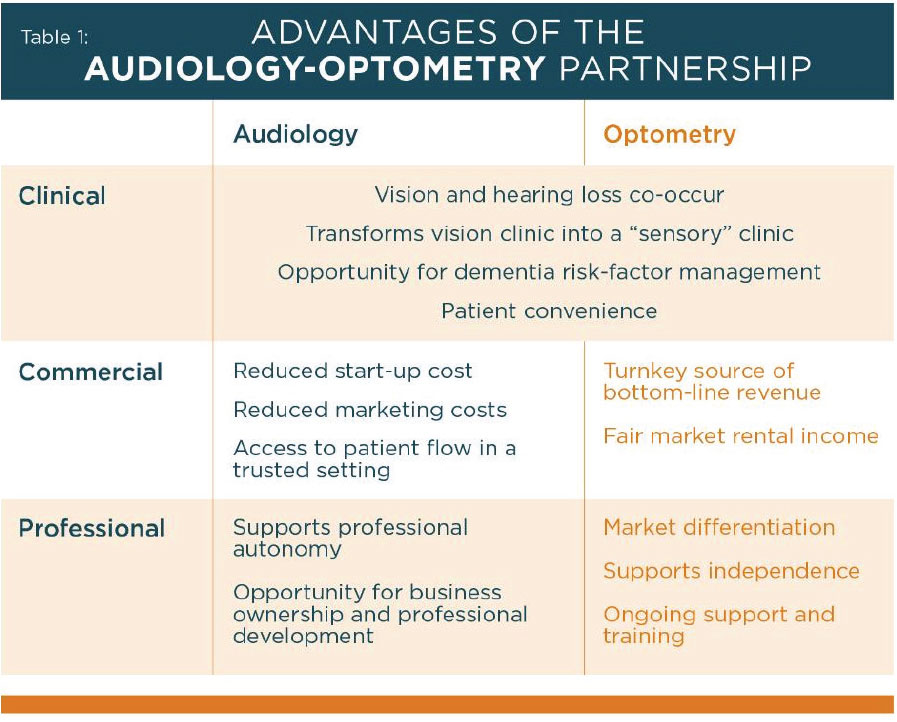 Clinical Advantages
The prevalence of both vision and hearing loss dramatically increases with age. For this reason, vision clinics tend to have a relatively high concentration of patients with hearing loss compared to the general public. These neurodegenerative processes are also highly linked to cognitive decline.6 As America continues to age, proactive screening, education, and risk-factor management in one setting can significantly alter the trajectory of dementia development, improving the quality of life for our shared patients.6,7 Since no effective treatments currently exist for dementia, the current public health approach to cognitive decline is to identify and manage associated risk factors, thus delaying the conversion of mild cognitive impairment to dementia. Optimizing sensory function (vision and hearing) is a rational and evidence-based strategy to accomplishing this goal.
Whereas sensory clinics (vision and hearing) have traditionally existed in silos, there is powerful synergy in combining these service lines in one location. Not only is it convenient for patients to have access to all of these services together, there are practical advantages as well. For example, cognitive screening is a valuable tool for both the optometrist and the audiologist. However, the workflow of a busy optometry clinic creates significant hurdles for the successful implementation of cognitive screening. On the other hand, audiologists tend to spend more time with each patient, and cognitive screening is a natural component of a communication needs assessment. Cooperation between audiology and optometry allows the "sensory clinic" to offer all these services in one location while maintaining an efficient workflow in each service line.
Commercial Advantages
For the independent optometrist, there is constant pressure to remain relevant and financially solvent amidst an ever-growing number of big-box vision retailers and direct-to-consumer channels. Any service line that adds turnkey revenue to the bottom line is a welcomed opportunity. An audiology managed service represents such an opportunity if implemented correctly. Failed attempts at this integration have occurred when a single optometry clinic adds an employed audiologist or hearing aid dispenser to their payroll with the expectation to keep the professional busy and remain profitable. Partnerships with independent audiologists who deliver a managed audiology service line can resolve these issues. Properly implemented, these partnerships result in profitable activity for both the optometrist and the audiologist, supporting the independence and financial stability of both.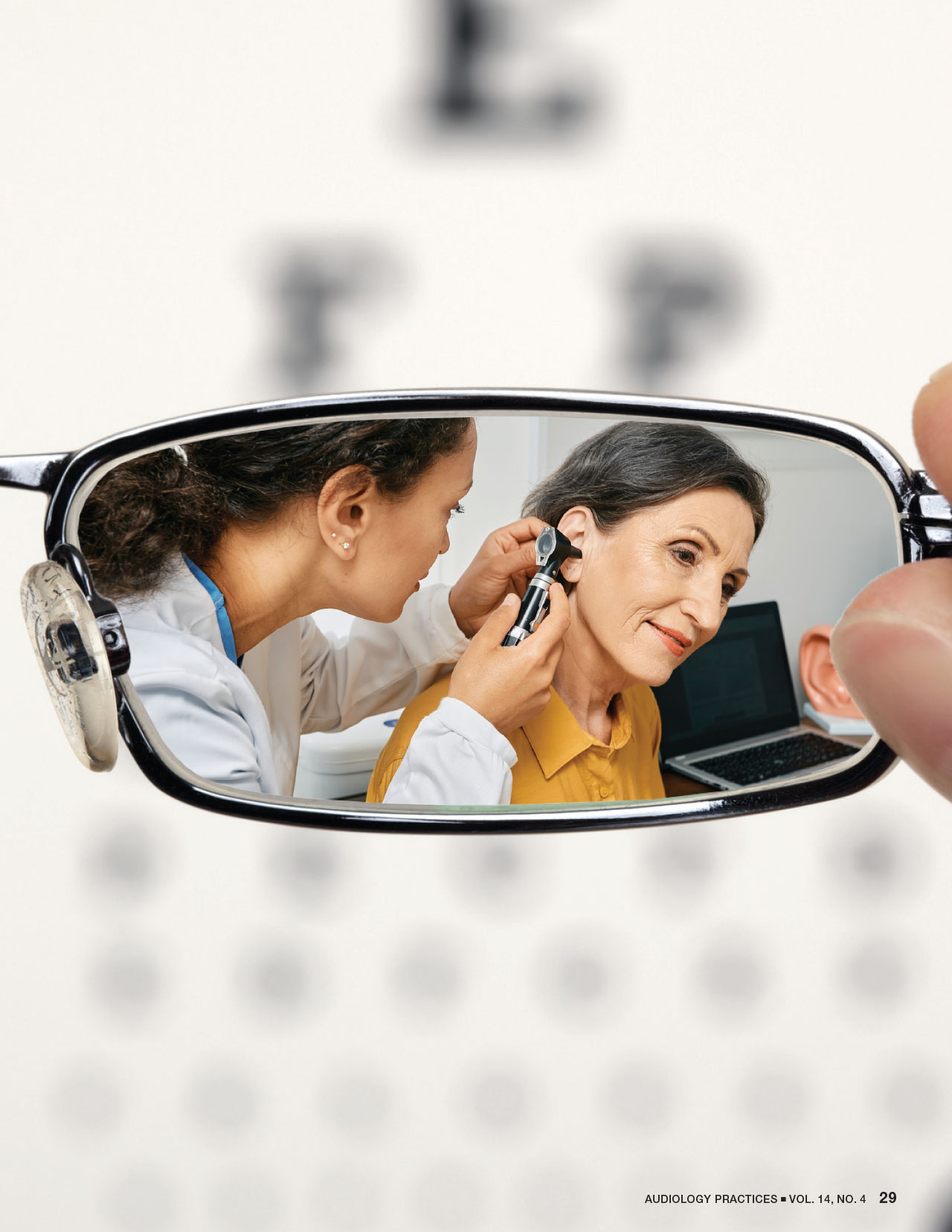 For audiologists, the commercial value of such partnerships is clear and significant. By operating within an existing structure, the build-out and startup costs are slashed to a fraction of the cost of a traditional startup. Gaining access to a steady stream of patients in a clinic that has operated for years (or decades) provides an instant flow of patients in a trusted setting. Marketing costs, a significant burden in independent audiology, are reduced or in some cases eliminated. From a commercial standpoint, an audiologist who has successfully integrated with optometry partners will see advantages that a stand-alone, unaffiliated audiology practice will struggle to achieve.
Professional Advantages
As noted previously, independent optometry has a need to remain relevant in their communities. The installation of a managed audiology service line does this by differentiating the optometrist among the patients they serve from their competitors. The optometrist can stand out in their community with service offerings not available at big-box retailers. This practice builds on an existing trend in independent optometry toward service differentiation (dry eye, myopia management, etc). Offering vision and hearing together transforms the eye clinic into a "sensory" clinic, with more appeal to more patients. Additionally, the combined services give more opportunities to make the clinic "sticky", retaining patients and encouraging repeat business.
Opportunities for audiologists to be partners in their own business are limited. Additionally, opening an independent audiology practice is often associated with significant risk and financial debt. These realities can result in audiologists beholden to financial institutions or device manufacturers, placing limits on autonomy and professional freedom. A carefully planned partnership with optometry can reduce or eliminate these pressues, leaving the independent audiologist in a strong position to grow professionally and practice in a way that best serves their patients.
A Word of Caution
Embarking on an audiology-optometry partnership should be taken with caution. Audiology and optometry are unique specialties, each with their own clinical and financial considerations. Oversimplification can create problems and financial losses for both specialties. The strategy should not be simply to start selling hearing aids to vision patients. Rather, successful integration means partnership with highly skilled audiologists, implementing best practices (clinical and commercial) and bringing the best technology to the appropriately selected optometry setting. Careful planning and adherence to proven best practices can increase the likelihood of a successful venture.
Conclusion
Independent audiology is poised to see some if its best years ahead. However, doing so will require creativity and partnerships with like-minded professionals whose interests are aligned. The thoughtful implementation of an audiology managed service line within optometry represents such an opportunity. ■